Aaaand we're back! It's page 1 of 5 for the month of February, and we're kicking things off with... well... //gestures expansively//
I suppose we've all had times when we've wondered if what we're seeing is true.
In honor of the new month, I've also (finally) refreshed the TWC voting incentive. I made kind of a weird sketch of Brand in a modern, late-fall-in-the-Pacific-Northwest sort of outfit (I dunno, it's all stuff I'd wear probably), so click on that big ol' vote button over in the sidebar if you want to have a look.
And finally, it's still Week 4 of the SpiderForest Comic of the Week promotion, so please take a moment to pay a visit to:
Demon Archives by Dan Sharp- As Captain of the Keleres, Tenzin Dorje led his team to defend the people of Minerva from raiders and rival factions. But when a new enemy destroys the Keleres and seriously wounds Tenzin, he'll have to face his personal demons to restore peace to the region.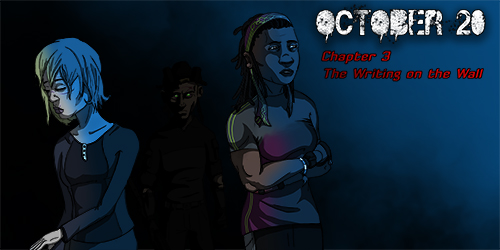 October 20 by Marius Hjelseth- For 12 years, Catherine has suffered agony, isolation, loss and betrayal. Now, she faces her most formidable monster. Her own guilt. Get ready for the final chapter of October 20, as Catherine returns to where all her grief began. Along for the ride are a few surprise allies. And enemies.